Mongato: Providing sustainable period products for everyone
Did you know that in South Africa alone, 30% of girls don't attend school while menstruating due to a lack of access to period products?
After discovering the excessive cost and discomfort of traditional period products in South Africa, Selaelo Mathekga and Dzumbuluwani Mmbara embarked on a mission to create a company that helped eliminate these issues once. Despite being two men, the duo began researching alternative products available, and not long after, Mongato was born.
Today, Mongato provides women and girls around the country with sustainable, durable and cost-effective period products that are designed to give its users maximum comfort and confidence. Eager to learn more about their business, we sat down with the founders to find out how Mongato came about and the benefits it offers.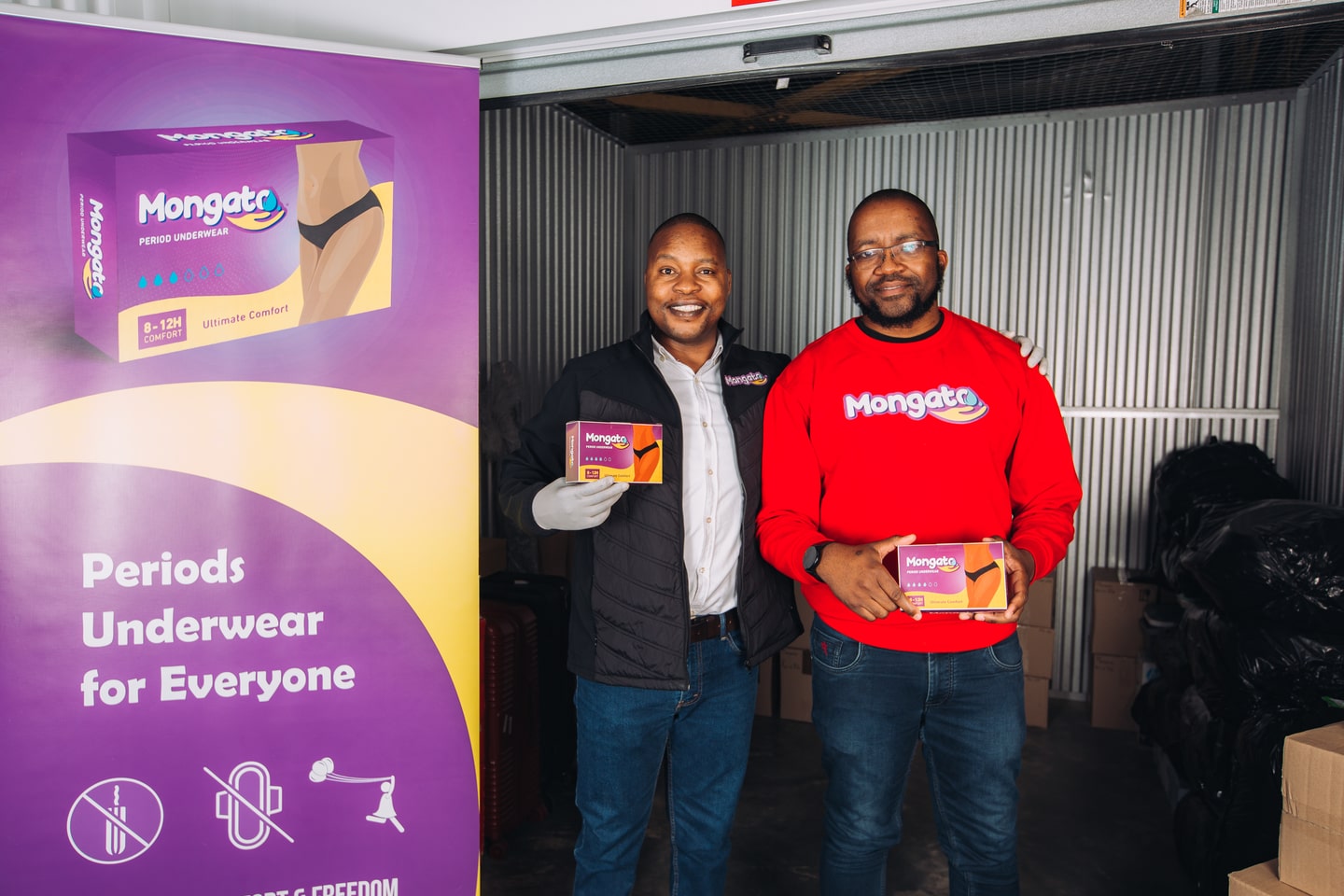 Tell us a bit about Mongato and what exactly you do?
I'm Selaelo Mathekga and along with my colleague Dzumbuluwani Mmbara, we developed Mongato brands. Mongato was born out of care to end period issues with natural non-invasive special periods underwear. We are currently focussing on period panties and have developed a product that uses advanced technology which fights bad odour and has the ability to absorb ten times more than usual products.
Where did the name Mongato come from?
We needed a name that would speak to the masses. It was easy to come up with the name because when we're growing up, there were no Pampers or nappies, we had reusable materials known as Mongato, which means napkin in our local African language.
As two men starting a new period product company in South Africa, what are some of the challenges you experienced?
The challenges we're experiencing are more on the awareness side. Many women don't even know about period panties – and we're introducing them as two guys! So, once we educated ourselves we began to educate the public.
We've had to inform women that there is such a thing as period panties, which are hygienic and can be worn the whole day. Social media has also played a huge role in helping us spread awareness so that people know what we offer and the benefits of our product. We find that once people understand period panties and have tested the product themselves, then the demand increases.
How did the COVID-19 pandemic affect your business?
Surprisingly, COVID-19 actually helped launch our business. How Mongato came into existence was when I was the first lockdown with my wife who was using your normal, disposable period products. During this time, I became aware of how these disposable products were affecting my wife and the discomfort they gave her.
This experience presented a huge opportunity for us because I was looking to start a new business. I did some research and discovered that there was a period panty company in the UK and I knew I had to bring the product to South Africa. My wife tried one of the products and she was really impressed. I knew then that this was something we needed.
How has Mongato benefitted from Stor-Age?
When we started to source our product from overseas, we had little space to keep it at home so we had to start looking for storage and it only made sense to choose Stor-Age. The access from the N1 here is easy and the level of safety is great. The flexibility Stor-Age offers is also important for businesses. Our offices and houses have limited space, and with Stor-Age, we know we can always scale up or down depending on the demand.
What plans does Mongato have for the future?
We'd like to see Mongato positioned as the number one manufacturer, not just in South Africa but beyond. We hope to make and source everything in South Africa so that we are 100% local, playing an active role in homes and the economy.
We also look forward to the day that we can start visiting schools, universities and churches to educate more people about our product and its benefits.
Interested in trying out Mongato's period panties? Visit their website to find out more about their wide variety of comfortable and sustainable underwear and how they are taking the pain and anxiety out of periods.
Do you have a business story that you would like us to hear about? Send us a message on Instagram, Facebook or LinkedIn to be part of our Local Business Spotlight campaign. You can also email us on feedback@stor-age.co.za.
Posted by Stor-Age Self Storage - 10 December 2021 | SME