A basic guide to storing art
There are several reasons that you'd need to store your valuable art collection. Whether you've run out of wall space, are in the process of a move, or holding them for an event - you want to make sure that your art is safe and secure.
These tips will help you to safely store your art.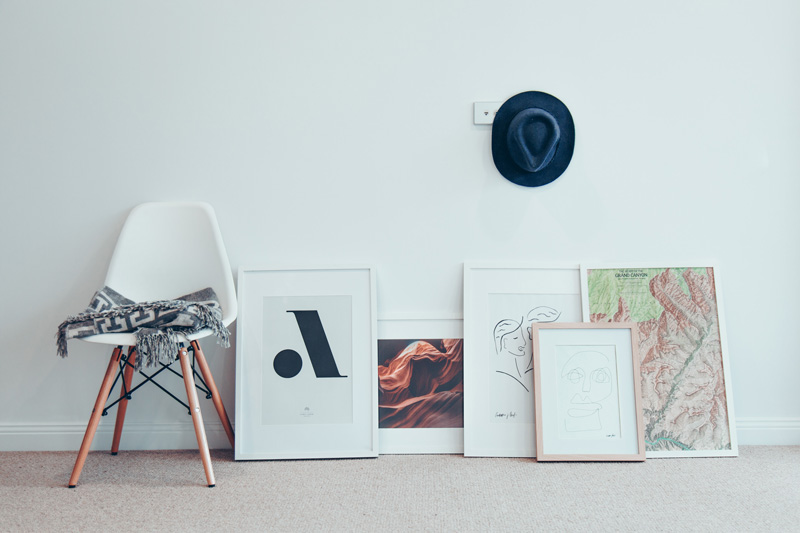 Pick a suitable location
If your precious paintings are not going to call your home their own, then they should at least have a suitable home for themselves. So, where is an ideal space to store your artwork?
For most works of art, a steady, cool temperature is required (21-24 degrees Celsius). Extremely hot or cold temperatures can cause the artwork to warp - as can light. For this reason, the room should also be as dark as possible without windows.
Another key factor to consider is humidity. Keeping below 50% humidity is suggested by many art experts to prevent mould.
Top tip: Avoid attics or basements unless they have climate control.
Prepare for wrapping
Before handling your artwork, your hands should be clean. Most art materials are sensitive to various substances and the natural oils on your fingertips can cause damage. If you want to be extra-careful, you can wear cotton or powder-free latex gloves before handling your art.
Make sure that your artwork is clean before wrapping them. A clean microfiber cloth is a handy tool to remove dust from hard surfaces. Metal sculptures and frames can be cleaned with an oil-based polish and buffed with a dry rag.
The final step before wrapping your artwork is to check that all pieces are properly dry.
Boxing and wrapping
While framed and unframed artwork require the same environment for storage, the process of wrapping differs slightly. Once you've got your packaging products, you can follow these guidelines.
If you're storing framed art pieces and 3D objects, then you'll want to wrap them tightly with a storage blanket or bubble wrap. A strong packing tape will do the trick to seal the wrapping. Any material used to wrap and protect your artwork should be acid-free. It's also better to avoid plastic wrappings as it can seal humidity inside.
Glassine paper is unframed art piece's best friend. Once wrapped, you can tape the artwork to a piece of foam board for protection.
Handling
You've gone through the effort of carefully wrapping your artwork, so make sure that you handle them with care while transporting. Handle one piece at a time and keep a detailed record of your art's storage.
Finally, make sure that you keep checking in on your artwork, especially if they remain in storage for long periods of time.
Call 0861 18 18 18 to find out more about Stor-Age's clean and secure units. You can also get a quick quote online.
Posted by Stor-Age Self Storage - 10 November 2020 | Tips And Hints