5 Stunning Beach Picnic Setup Ideas for Summer
Just picture it. You're sitting with your closest friends on a soft blanket with a bottle of bubbly in hand watching the sun melt into the ocean. Whether celebrating a birthday, anniversary, baby shower or a hot summer's day, a curated beach picnic can turn any occasion into the most memorable day of the year. And the best part? You don't have to be an award-winning chef or designer to pull it off.
If you want to spend some quality time with your friends and family while soaking up the beautiful summer weather, take a look at these 10 beach picnic setup ideas. We've also includeda few tips for creating the dreamiest day out.
What Do You Need for a Beach Picnic?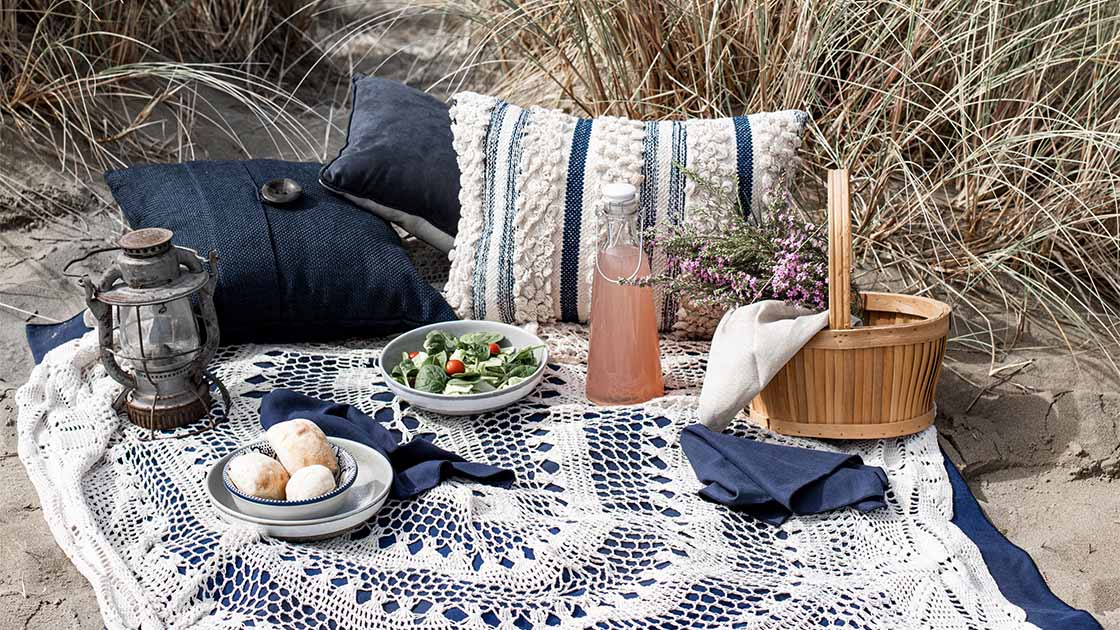 You might have hosted plenty of lunches and dinner parties at your home, but a beach picnic can be a complete nightmare if you don't plan ahead.
For one, you don't have access to a fully stocked kitchen with all the dining essentials like cutlery, plates, napkins, and, of course, a fridge to keep your food and drinks cool. Not only that, but you'll have to transform a sandy spot on the beach into a cosy little sanctuary that's insta-worthy.
If you're not sure where to start, here are a few beach picnic essentials to put on your list:
Picnic basket

Picnic blanket

Beach umbrella

Picnic table

Cooler box/insulated cooler bag

Plastic plates

Utensils (including serving utensils)

Plastic glasses

Napkins

Bottle opener

Cutting board

Food covers

Ice bucket

Dry cloth

Sharp knife

Condemnents

Salt and pepper

Paper towels

Rubbish bag

Plastic containers or ziplock bags

Torch

Sunblock

Games

Inflatable pool/beach games
How to Plan the Perfect Beach Picnic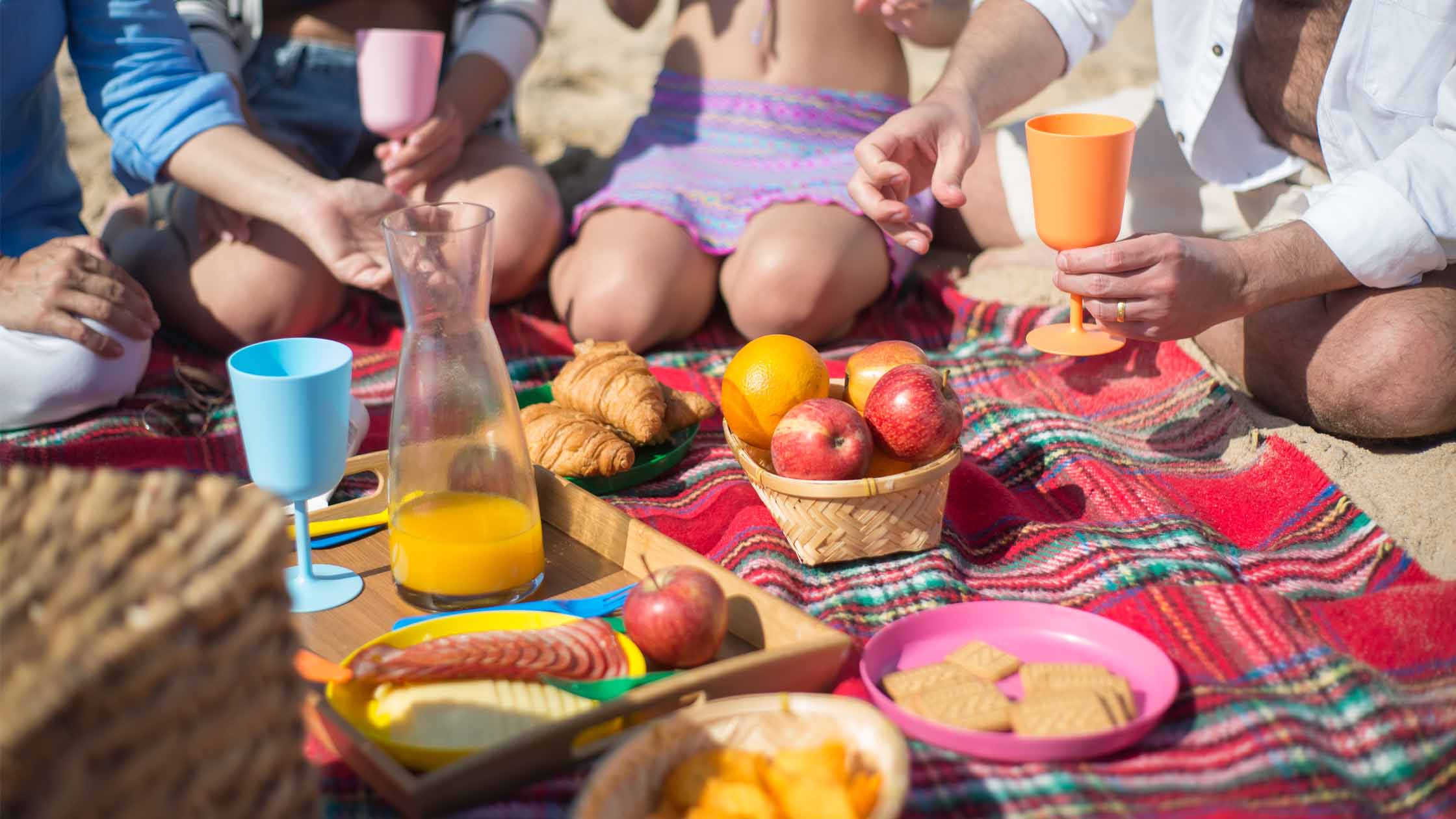 Whether you're planning a romantic beach picnic for two or a lavish 3-course lunch with the girls, you need to be prepared for a couple of curve balls. Here are a few tips to keep in mind for your next beach picnic:
1. Check the weather
Before you can begin planning a dreamy picnic on the beach, you first need to find out if the weather is going to be on your side! The last thing you want is to have all your table decor blown away or your guest's drenched by a sudden shower.
Check the weather forecast for your area a week before and plan for the weather. If it's going to be a scorcher, remember to pack in enough sunblock, sunhats, shade cover and consider throwing your gettogether in the morning or afternoon when it's cooler.
2. Find the perfect spot
Next, you need to choose your location wisely! If it's just you and a couple of yourfriends, be sure to select a beach that is busy and close by, especially if you are a group of ladies.
Try to select a spot that has a stunning view of the horizon, especially if it's a sunset picnic, and shade is a bonus! It's also important to make sure it's not too far from the parking lot as you'll need to lug all your furniture, food and table decor there and back.
3. Focus on the details
When it comes to dazzling table decor, it's all in the details! Add personal touches that will wow your guests and make them feel special. This could be quirky name cards, tiny hand-made bouquets, scented candles or elegant napkins.
You could also take it one step further and have beautifully decorated platters or carry your theme out into the food and drinks!
4. Make it cosy
You can have the most incredible picnic table decor but if your seating isn't comfortable, it'll be all the guest's remember. Make your beach setup as comfy as possible with plush pillows, lawn chairs, blankets and throws. Other decorative elements like tea candles and fairy lights help create a relaxed ambiance or can set the mood if you're planning a romantic picnic with your partner.
Best Beach Picnic Setup Ideas
1. Dreamy Boho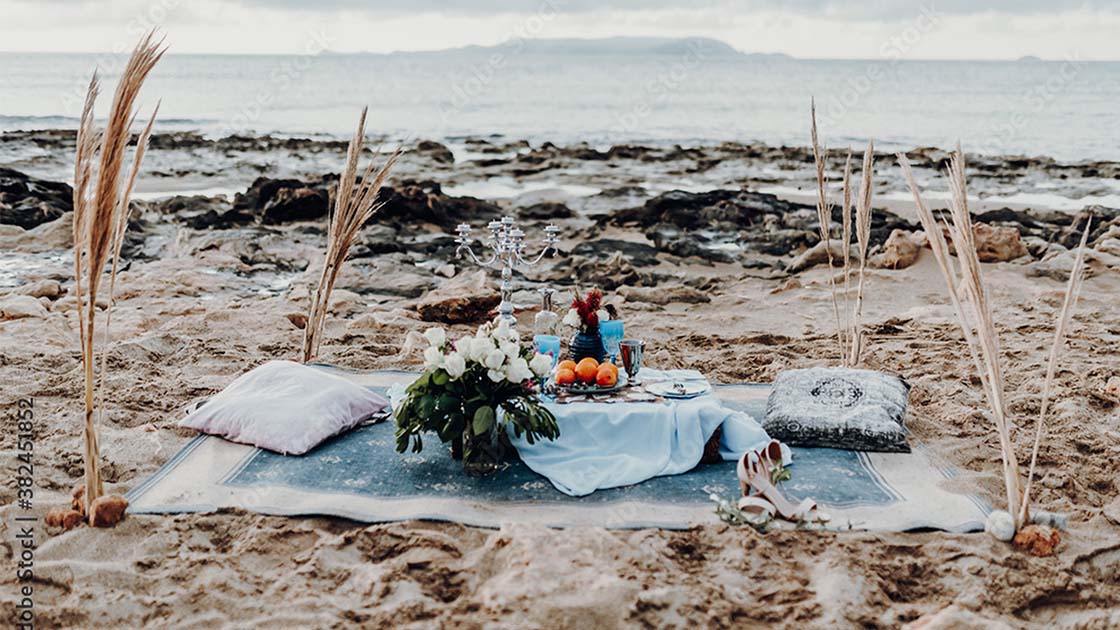 The boho beach setup is a timeless theme that'll not only impress your guests but create a magical atmosphere.
Go for a calm and relaxed aesthetic with neutral tones, greenery, flowy fabrics, fairy lights and plenty of plush cushions to lounge on.
Rattan and cane furniture is also a must, and incorporate natural elements into your table decor like dried flowers, bunny tail and fluffy pampas grass.
2. Fantasy Floral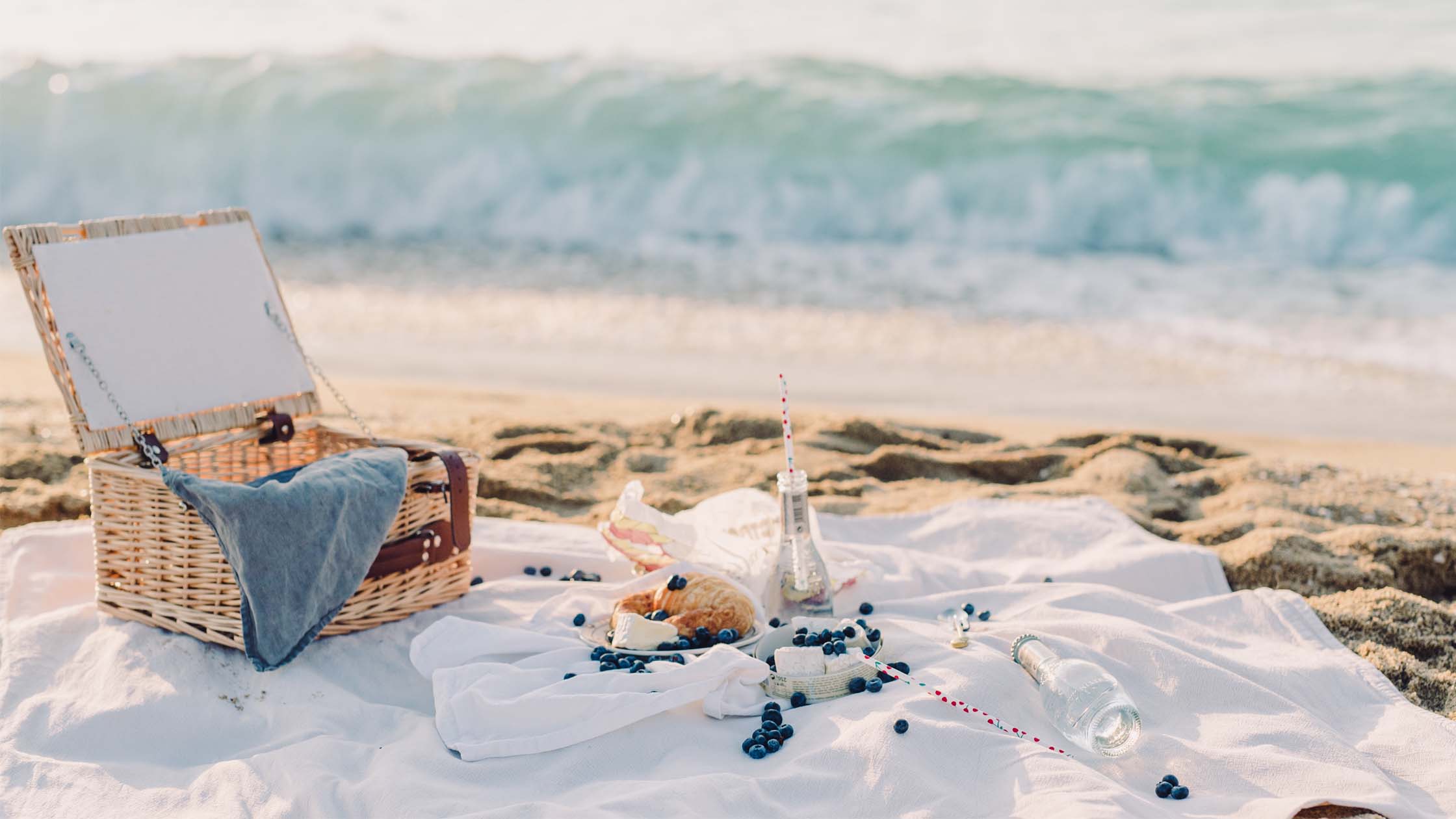 If you want the wow-factor but don't have a bottomless budget, a fantasy floral beach setup will do the trick!
You can pop by your local florist or pick flowers in your garden and create colourful bouquets and centrepieces that bring your table to life. Complement your decor with soft pink pillows and blankets, and add touches of peach and warm whites into your table cloth.
3. Simple and Elegant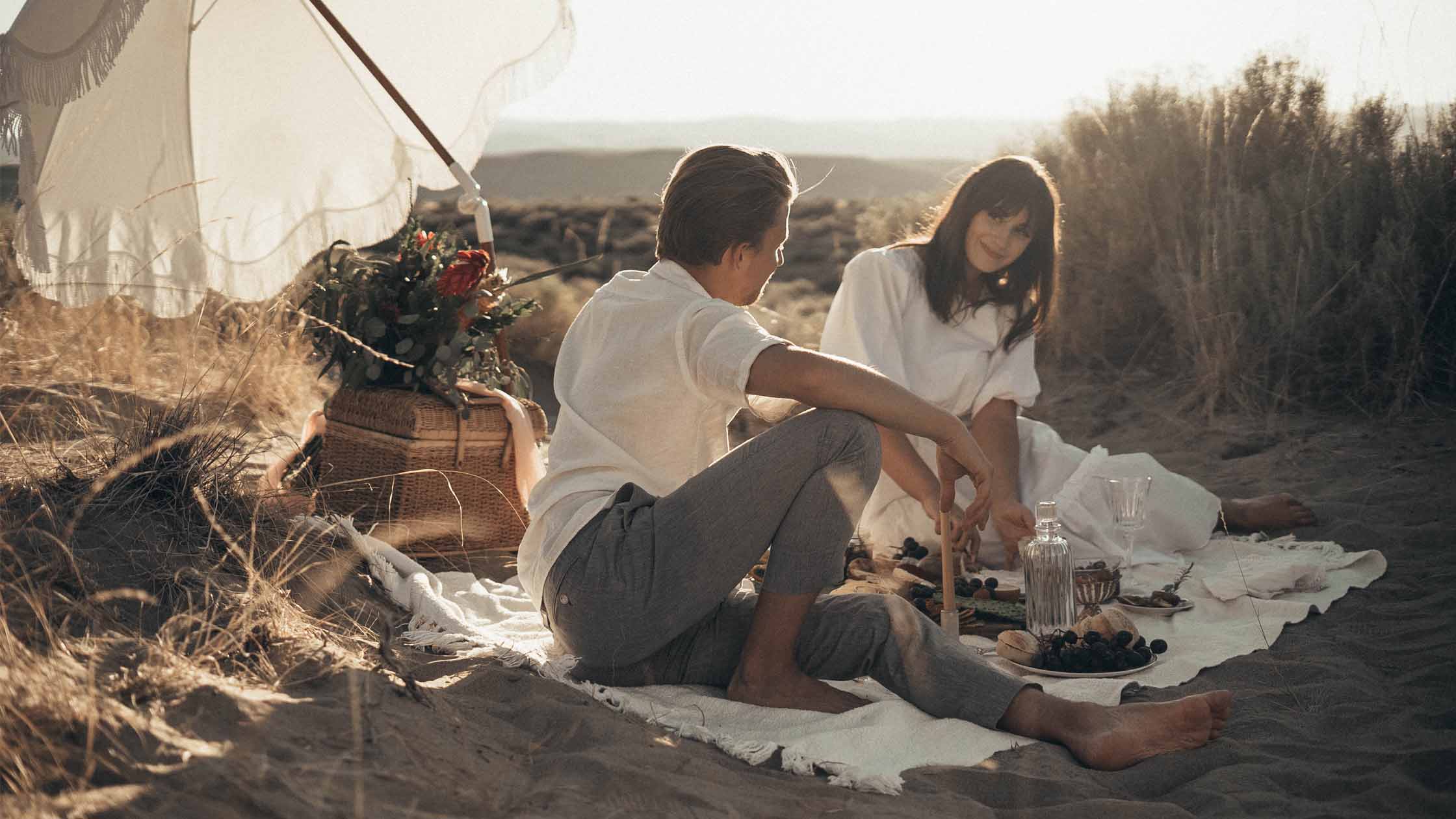 Sometimes, the best beach picnic setups are the simplest. Using neutral, plain colours, a couple of scatter cushions, and a few candles, you can create a calm and relaxed setting that you and your friends/family will love!
This minimalistic approach is also great if you're on a budget or don't have time to put together an elaborate table setting.
4. Ultra Romantic
Nothing sparks romance like a thoughtful picnic on the beach. This couples beach picnic setup is a great idea for a proposal or anniversary with your loved one. Don't be afraid to go all out with the red roses and if it's a windless night, light a few candles to make it extra cosy.
5. Island Paradise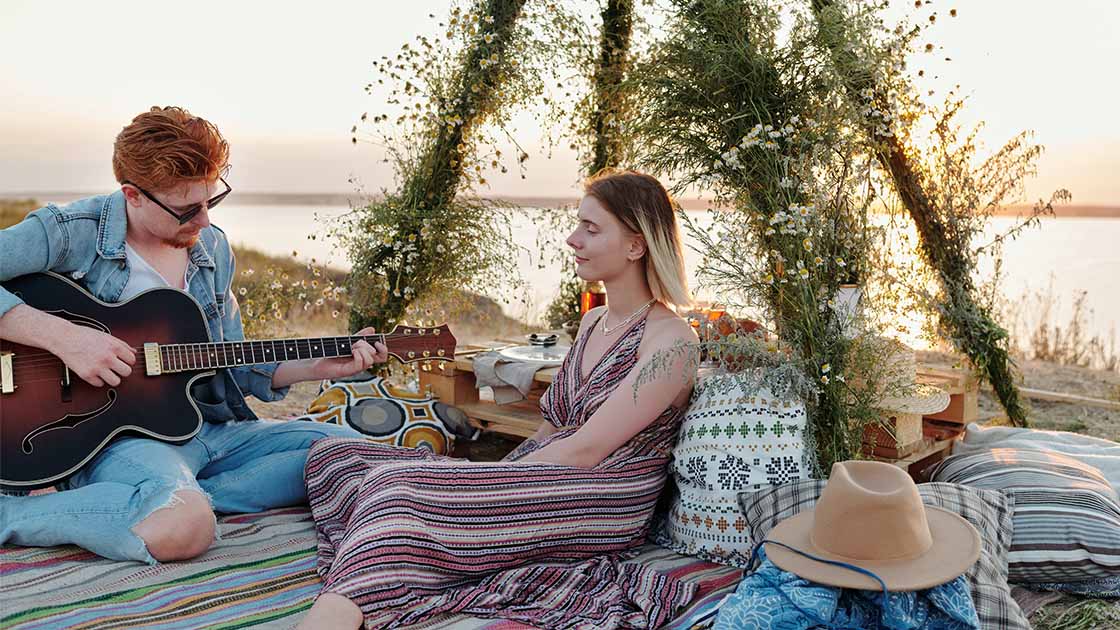 Go tropical with a fun island setup complete with palm tree leaves, coconut cups and a fruity punch bowl. Take your inspiration from the largest island in the United States and weave in plenty of greenery, colourful leis, tropical drinks and bright table decor.
Whether you're planning a fabulous beach picnic or a fun pool party this summer, it always helps to have some extra space! Declutter the garage, revamp your garden and create more space for memories with self storage.
Boasting a wide range of storage units and flexible leases, Stor-Age is the perfect household storage solution. To learn more about our services, give us a call on 0861 18 18 18 or request a quick and easy online quote!
Posted by Stor-Age Self Storage - 20 January 2023 | Adventure